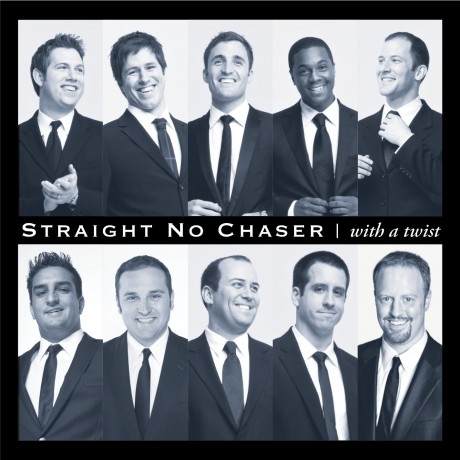 Hello everyone!
It's time for another update from the Jersey Shore! As those of you who check in to our website know, we've been having a blast in Atlantic City, and even had a special celebrity guest stop by recently to see the show! Click here to see who it was.
In other AC news, because of the past success of our PBS Special "Live From New York," we were able to film a brand-new show last week in Atlantic City. We are so honored to be able to renew our partnership with PBS, and can't wait for you to see the new show. It is called "Songs of the Decades" and will be coming to a PBS station near you later this year.
In the meantime – we are happy to announce that the brand-new deluxe version of "With a Twist" is available today! This CD/DVD includes four bonus songs not included on the original record, including "Only You" which has never been previously available in the United States. Upon purchase, you will also receive the "Straight No Chaser: Live In New York" DVD, which has only been seen on PBS, plus a new 24-page expanded booklet with never-before-seen photos from our days at Indiana University, on tour, and more. We are also keeping our exclusive bundles available which include SNC Wine Tote, Candle or Old Fashioned Glasses!
And if you want to see us in REAL LIFE – make sure to check out all our Atlantic City dates, UK Tour, Fall Tour, Spring Tour, and New Years Eve show on our website. PHEW. We have 78 upcoming shows posted right now – which one are YOU coming to??
Back to the matter at hand, click here to check out all the details and track list of our new album, and order your copy now.
Love,
Straight No Chaser